As
SantaCon NYC
draws closer still, my costume preparation is in full swing. Usually I procrastinate till the last few days before, but this year I'm almost ahead of the game! So with my motivation I've decided to write a little post about my big wig for the event.
With every costume it is important to pick a color scheme and really adhere to it. Otherwise your outfit can look a little haphazard. This year I am going to be a Sexy Candy Cane so my colors are obviously white and red. I found a lot of good Christmas decorations at dollar stores this year as well as my favorite store Michael's Craft Store.
*Side note: If you have a smart phone download Michael's app. They can scan weekly coupons right off the phone so you never have to be annoyed you forgot your 40% off one item coupon at home. I love it!*
Anyway the wig I had envisioned in my head was white with red stripes which would have to be custom made. However I'm not Lady Gaga and commissioning a custom piece is not in my wig budget. If it were, I would by wigs from
PoshFairytaleCouture
an amazing seller on Etsy with mind blowing headpieces and wigs.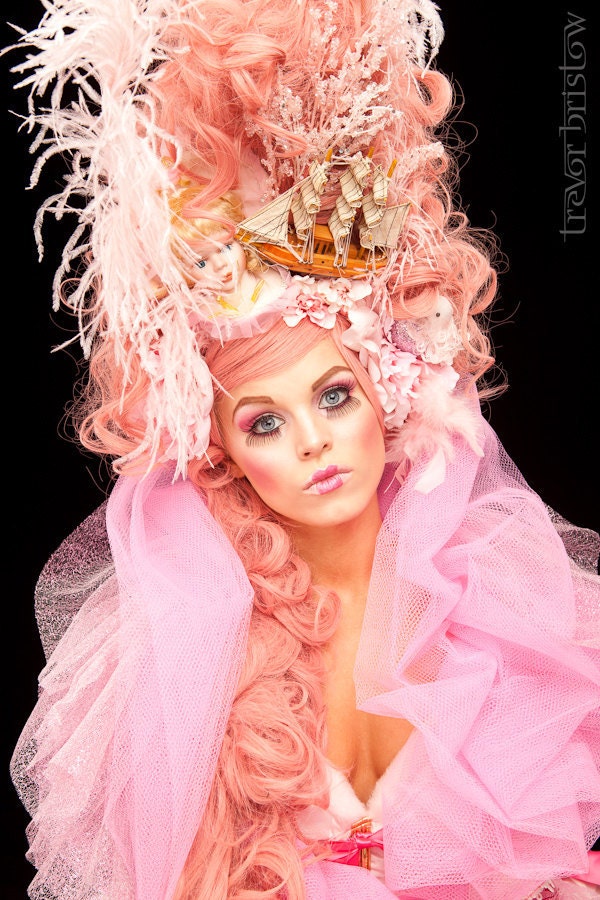 Inspiring indeed.
So to realize my wig vision I had to do a little improvising. After reading lots of Amazon reviews I bought a long white wig that a lot of people had purchased to be Storm from the X-Men for Halloween from
ToyNK.com
. Its a very long wig for how inexpensive it was and it has little threads of sliver tinsel in it that you can't see well in the photo online but in person is very cool. Then I bought red hair extensions at Wigs and Plus (152 W 32nd St btw Avenue Of The Americas & Penn Plz). Great store for wigs, extensions, lashes, contact lenses at very good prices. The extensions are Kanekalon braids in bright red. They are not attached to a weft or a clip so its basically loose hair. They are kind of hard to work with since once you remove the rubber band the hair goes everywhere but I found a way to make it work. I took a needle from my knitting kit with a large eye. Then I threaded a small amount of hair through it, pulled it through the mesh of the wig and attached with a slip knot and a dot of hot glue. I tried to evenly space the red so it looked like stripes on a candy cane. It was a pain, but the results are amazing. I will wait to reveal the completed wig. This is after all just a tease.
In order to add all the fun glitterly goodies I wanted to, I needed a base to attach them to my wig. So I took a styrofoam cone that would be used for a floral arrangement and bobby pined it to the wig but pushing bobby pins into the bottom of the styrofoam cone from inside, catching the mesh. I swirled the hair around it, pined it to the styrofoam and then went crazy with glitter picks and dollar store tree decorations. It looks as though Christmas has exploded on my head. Another Sneak Peek...
Meet up with me at SantaCon NYC on December 10, 2011 to see the final look. It's gonna be Candy Cane-riffic!
I will be tweeting during SantaCon so if the NYCSantaCon gets bogged down follow me @kostumegirl for locations!