BATTEN DOWN THE HATCHES! As the blustery winds if Hurricane Irene threaten the East coast and kick up the surf I'm reminded of a certain group of pillaging villains that relish in this inclement weather. PIRATES! ARGH! AHOY! AVAST and all that!
If you would like to indulge your bad boy/girl pirate side in a little fun I recommend and upcoming NYC event.
PIRATECON 2011
Saturday September 17 from 11:30am - 10:00pm
Drink some rum or pirate booty brew of your choice and join for fellow scallywags for a fun pub crawl in Manhattan dressed as Cap'n Hook, Smee, or a Pirate Wench.
Here are a few links with photos from last years event. They can be found at
MetroMix
and
Village Voice
.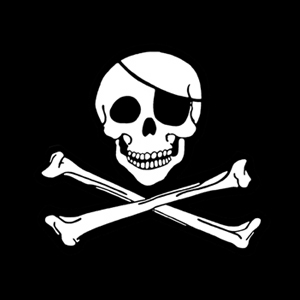 Pirate costumes can be pretty easy.
Party City
always has eye patches and pirate hats on hand. Besides that guys, just put on some worn cargo shorts and a striped shirt and don't shave. Ladys, put on all your jewelry at once and get a Jolly Roger bandana. Not sure why pirates love red and white stripes, but they do. Bonus points if you can get your drunk ass parrot to stay on your shoulder the whole time.
Check out their
Facebook event
page for some good information.
ARGH! Follow on me twitter @kostumegirl.
Note: This is not a
Kostume Kult
event.